In your dreams, you are haunted by monsters. After some sleepless nights, you want to get rid of it. However, this is easier said than done. The monsters are always changing colours and shapes. Above this, when you think that you have got rid of them all, they suddenly reappear in numbers. Will you be the first player to be left with no cards? Will you be the fastest one?
Monster Boo is a party bluff card game for 3-5 players where each player owns a deck of monsters and everyone try to get rid of their decks. MAGE Company is proud to announce a new cooperation with Frederic Moyersoen, author of Saboteur, Ninjato and other well-known games. Frederic designed this beautiful kids game and MAGE Company will release Monster Boo in Q3 2018.
Set-up of the game
Shuffle all the cards and place randomly 3 cards face-up in the middle of the table (Replace any Fairy card by a Monster card). Then, distribute the other cards facedown among the players, approximately the same number of cards for each player.
Place the Shape/colour card next to it, shape side up.
You keep your cards as a reserve in a facedown stack in front of you. Draw the 5 top cards of it and keep them in your hand, secret for the other players.
Sequence of play
One player, which is selected randomly, starts the game. The game continues in clockwise order.
When it is your turn, you select secretly one of your hand cards and place it face-down in front of one of the 3 face-up cards.
All following cards which are played in front of the 3 face-up cards, are placed on top of each other, forming a stack of cards.
Then, you draw one replacement card from your own stack in order to have again 5 hand cards. Of course, when your stack is depleted, you cannot draw a replacement card anymore.

Boo
When you play a card, you are supposed to play a card with a similar Monster shape as the face-up card.
However, you may cheat and play also a different card (by purpose or because you have no other option).
When another player thinks that you are cheating, he may shout: "Boo". As a reward for that risky move that player discards the top card of his deck, so his cards become less.
At this moment, the round is interrupted, and your last played card is revealed and checked with the face-up card of the corresponding stack.
If the "Boo"-shouter was right (because your card is different from the face-up card), you must take the face-up card with all played cards in front of that card and place them under your facedown stack.
If the "Boo"-shouter was wrong (because your card is similar to the face-up card), he takes all those cards and places them under his facedown stack.
The player who was right, starts a new round by selecting a Monster card from his hand and placing it as a new face-up card on the centre of the table. He replenishes his hand until 5 hand cards, unless he has no reserve anymore.
Then, it is the player at his left, who starts playing the next card facedown.
Note: should the player who has to select a new face-up Monster card, has only a Fairy card available, then he plays that card (probably he will be very close to winning the game). In this case, the next player will be allowed to place a new face-up Monster card.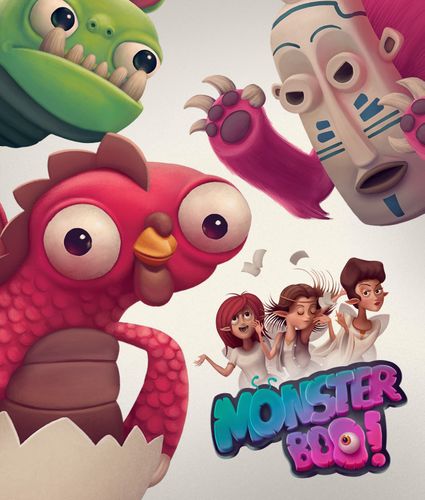 FAIRIES
Fairies are cards included in the separated decks and enhance the game with different abilities. The fairies will de-balance the game in a funny way since you exchange decks with other players, change the monsters' colours/shapes, change the player order and many more. So be careful if you want to play such a card. It is important the time you choose to activate a fairy.
End of the game
The game ends when one player has no hand cards anymore.
He or she wins the game by shouting "Boo Boo"!
Visit the BBG page and discuss about Monster Boo: