Cesare Borgia. We are in the Renaissance period in Italy. You are a hired hand of Cesare Borgia, the fearsome Commander of the Papal troops, and son of Pope Alexander VI. The Borgia clan gained power due to bribery, murder and intrigue which resulted in a lot of enemies. To keep them under the thumb, more bribery, murder and intrigue is required. All these actions are, of course, performed in the interests of the Holy Church and to protect the salvation of the poor Christian souls.
Religion is not your concern. You're hired for the money.
MAGE Company proudly presents a new game by Frederic Moyersoen and Arno Maesen titled: Cesare Borgia a board game of skills management and determination for 2-5 players set in the Renaissance period in Italy.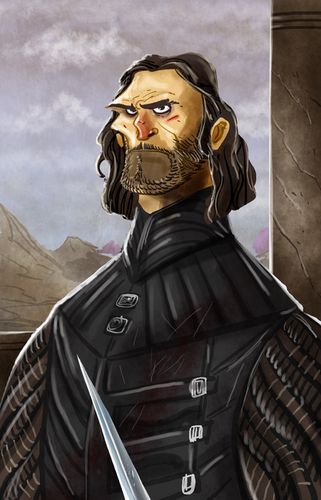 GAME IDEA
Players try to perform missions in Italy and move therefore from city to city. To perform the missions, players require a mix of different skills: sabotage, theft, assassin and intrigue, represented by colored tokens. Money can be useful to acquire missing skills. Finally, to move, travel tokens are required.
In your turn, you draw 2 tiles out of a bag and place them on the corresponded grid. The purpose is to form series of similar tiles. When this is done, you can exchange the tiles for tokens. With the right tokens, you can move and perform the missions in order to gain victory points (VP).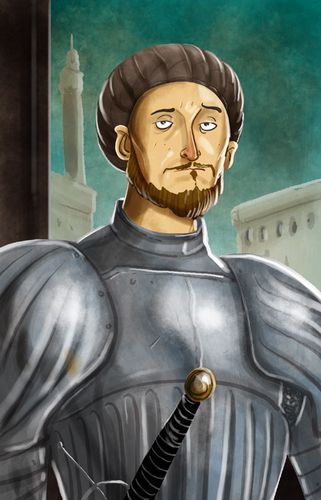 GAME SET-UP
Place the game-board in the middle of the table.
Each player gets a player board. Select one randomly or choose one. Make the choice by common agreement. Each player places his player board in front of him.
Each player gets 6 tokens, one in each color. Three tokens are selected and placed on space 1 of the player board. The other three form a reserve and are placed on space 0. Each player takes his Heroic Exploit card which is placed next to the player board.
Each player places the pawn of his color in Rome
Shuffle the Mission cards and pile them in a facedown stack next to the game-board. Draw a first Mission card and place it face-up on Firenze (city n°1). Then, draw a second Mission card and place it on Napoli (city n°2). Draw a 3rd and 4th Mission card and place it respectively on Siena (city n°3) and Ravenna (city n°4).
Put all the tiles in the cloth bag.
Shuffle the Event and Upgrade cards separately and pile them in 2 facedown stacks next to the game-board.
Place the Reference sheet next to the game-board. Keep the tokens and markers in a reserve aside of the game-board.
Select a Start player randomly, which starts playing his turn.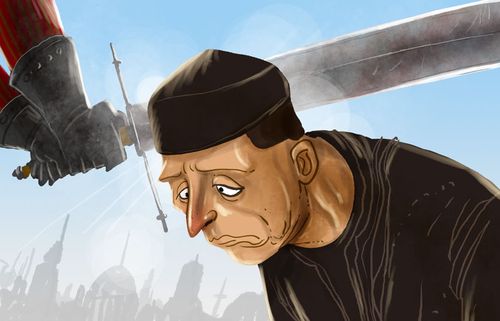 HOW TO PLAY?
Starting with the Start player, each player completes his turn in clockwise order.
A turn consists of:
drawing and placing tiles
scoring lines
exchanging tokens
moving around the map
executing a mission.
You can mix up all these actions and perform them in any order. However, after executing a mission, your turn is immediately finished.
EVENTS
Some mission cards mention "Event". After placing a new Mission card, the player at the left of the active player draws an Event card and places it face-up upon an available Mission of his choice. Place the card in this way that all important info remains visible.
Events mostly make the achievement of the missions more difficult by increasing the number of required tokens. Sometimes events yield an extra reward. In this case, keep the card among your fulfilled mission cards as a reminder. Other events are discarded when the corresponding mission is fulfilled.
Some events show the roadblock icon. In this case, place or displace the roadblock marker on a path leading from one city to another. A path with a roadblock marker cannot be used. There is only one roadblock marker which must always be displaced, once it is put in the game. Discard the Event card after placing or displacing the roadblock.
When the stack of Event cards is depleted, shuffle all discarded cards again and form a new Event stack.

END OF THE GAME
The game is nearly finished when a player has reached or exceeded a certain number of victory points. Finish the ongoing round in order to give each player the same number of playing turns:
Two players: 12 victory points required
Three players: 11 victory points required
Four players: 10 victory points required
Five players: 9 victory points required
The winner of the game is the player who has the most victory points. Occasionally, check the following tie-breakers in descending order: number of fulfilled missions, number of upgrades in hand, number of yellow tokens in stock or number of other tokens in stock.

HISTORICAL BACKGROUND: THE LIFE OF CESARE BORGIA
In our eyes, Cesare Borgia was downright a scumbag. However, we must keep in mind that none of the renaissance rulers would measure up to our modern-day morals and that for his contemporary Machiavelli, Cesare Borgia was an example that the author immortalized in his book "Il Principe".
The Borgia family differed in nothing from other great Italian families: the Sforza's, the Medici's and the Ferrara's that made the renaissance to one of the most remarkable periods of history. Conspiracies, intrigues, bribery, betrayal, murder and war were common occupations in that period. Peaceful diplomacy was just one of the options.
Cesare Borgia lived from 1475 to 1507. His father was Rodrigo Borgia, the future Pope Alexander VI. Rodrigo was of Spanish origin and became cardinal thanks to the intervention of his uncle, the pope. In Rome, Cardinal Rodrigo Borgia had a mistress Vannozza de Canatei with whom he fathered seven children, including Cesare and his gorgeous sister, Lucrezia. In his turn Rodrigo Borgia was elected Pope in 1492. Therefore, he bribed 17 of the 22 members of the College of Cardinals. As a youngster Cesare learned literature, music and the arts. He quickly became Bishop of Pamplona. Later, the 18-year-old Borgia became a cardinal, but the religious office signified little to him. He felt better in a harness than in a habit and in 1497 he resigned from his ecclesiastical functions.
Initially it was intended that his brother Giovanni, would arrange the military affairs for the Borgia clan. But one morning Giovanni was found floating lifeless on the Tiber with a lot of stabbings in his body. Cesare was a suspect, but the case remained unsolved. People spoke of an affair between Giovanni, Cesare and Sancha of Aragon. The latter was the wife of their youngest brother, Gioffre de Candia. A family with peculiar relationships. Rumor was that the beautiful Lucrezia had donated her virginity to Cesare. Anyway, Cesare Borgia became Commander of the Papal troops and conquered the Romagna region. He was better with the sword then with a censer.
Historically, Cesare has been accounted for the following assassinations: Vitellozzo Vitelli, Oliverotto, Paolo and Francesco Orsini, and the renegade condottieri da Fermo. These facts are described by Machiavelli himself.
Also, the strangulation of his brother-in-law Alfonso of Aragon, the second husband of Lucrezia Borgia, is almost certainly ordered or carried out by Cesare Borgia. Alfonso supported Spain, while France favored the Borgia's. Besides that, Cesare would never sympathize for the spouses of his beloved sister Lucrezia. In December 1502 Cesare Borgia beheaded his military Governor Ramiro de Lorca. No one understood the reason of this execution, as Ramiro had always been faithful to Cesare. Perhaps Cesare Borgia wanted to regain the favor of the people by executing one of his own cruel commanders.
At the height of their power the Borgia's organized decadent parties in the Vatican with a lot of alcohol and prostitutes. Because of his sexual escapades, Cesare suffered from syphilis. His appearance was so hideous that he dressed himself in cloak and mask. Eventually that way of life punished itself. In August 1503 Pope Alexander VI dined in the villa of Cardinal da Cornetto outside Rome. The following day he was sick and he died after a few days. Curiously enough Cesare Borgia was also ill.
It was stipulated as another dark but failing scheme of Cesare Borgia: Pope Alexander VI accidentally took the poison that was meant for his enemy Cardinal da Cornetto. After the death of Alexander VI, his opponents came to power. Cesare was exiled to Spain. He escaped and worked on a come-back. However, Cesare was killed during the defense of his own fortress against his former troops, the Papal Army. Betrayed by his own men, he walked into an ambush. He was hardly 32 years.
The text on his tombstone reads: " Here rests in a skimpy piece of land the one that once was feared by the world. "