In your dreams, you are haunted by monsters. After some sleepless nights, you want to get rid of them. However, this is easier said than done. The monsters are always changing colors and shapes. Above this, when you think that you have gotten rid of them all, they suddenly reappear in numbers.
Monster Boo is a fun fast paced bluffing game by Frederic Moyersoen, where you try to get rid of the monsters in your dreams by discarding cards from your hand. Will you be able to free your dreams first?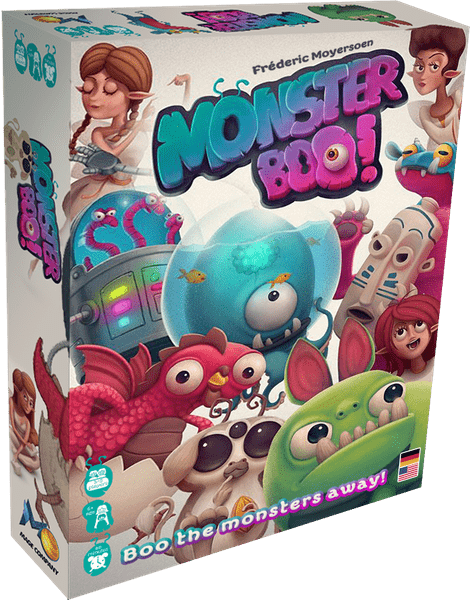 SET-UP OF THE GAME
1) Shuffle all the cards and place 3 cards face-up in the middle of the table, randomly. If you chance upon a Fairy card in this stage, replace it with a Monster card. Then, distribute the other cards face-down among the players, approximately the same number of cards for each player.
2) Place the Shape/color card next to the 3 random cards on the table, shape side up.
3) You keep your cards as a reserve in a face-down stack in front of you. Draw the 5 top
cards on the stack and keep them in your hand, secret from the other players.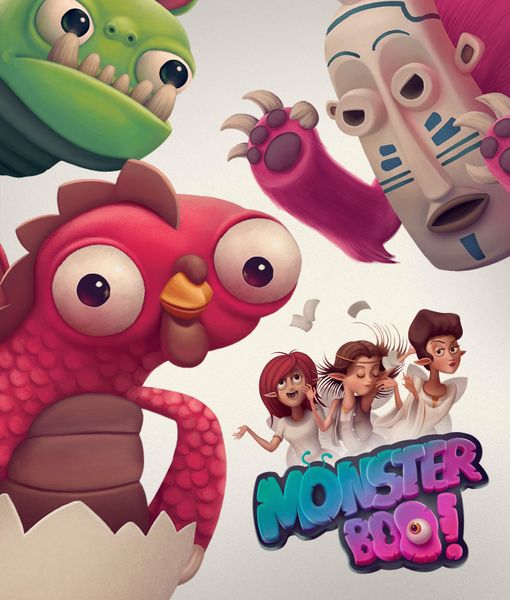 SEQUENCE OF PLAY
One player, which is selected randomly, starts the game. The game continues in clockwise order. When it is your turn, you select secretly one of your hand cards and place it face-down in front of one of the 3 face-up cards. All following cards which are played in
front of the 3 faced-up cards, are placed on top of each other, forming a stack of cards.
Then, you draw one replacement card from your own stack, in order to have again 5 hand cards. Of course, when your stack has been depleted, you cannot draw a replacement card anymore.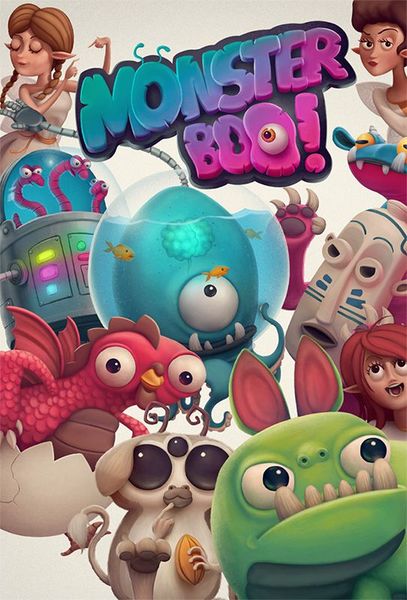 BOO!
When you play a card, you are supposed to play a card with a similar Monster shape as the face-up card. However, you may cheat and also play a different card (on purpose or because you have no other option). When another player thinks that you are cheating, he/she may shout: "Boo !". At this moment, the round is interrupted and your last played card is revealed and cross-checked with the face-up card of the corresponding stack.
If the "Boo"-shouter was right (because your card is different from the face-up card), you
must take the face-up card along with all played cards in front of that card and place them under your face-down stack. In addition to this, as a reward for the risk, the "Boo"-shouter choses one of his hand cards and gives it to you.
If the "Boo"-shouter was wrong (because your card is similar to the face-up card), he/she takes the face-up card along with all played cards in front of that card and places them under his/her face-down stack.
The player who was right, starts a new round by selecting a Monster card from his/her hand and placing it as a new face-up card on the centre of the table. The player replenishes his/her hand until the desired 5-hand cards, unless they have no reserve anymore.
The upcoming version of Monster Boo will be ready during Q4 2019. This version will be bilingual including English and German. More info on street release will be posted after summer.