The last year we started working on new sleeves sizes which will be added to the current premium sleeves line of MAGE.  We have added new sleeves types and sizes in the Standard and Non Standard categories. You will notice that all new sizes are in Pre-Order mode (check the image below). Among our newest sizes are sleeves for Middara, Cmon Games, Zombicide character cards, Etherfields, Scythe, FFG Games, Tiny Epic Games, 7th Continent, Gloomhaven, Necromunda, Bloodbowl, and all Games Workshop titles.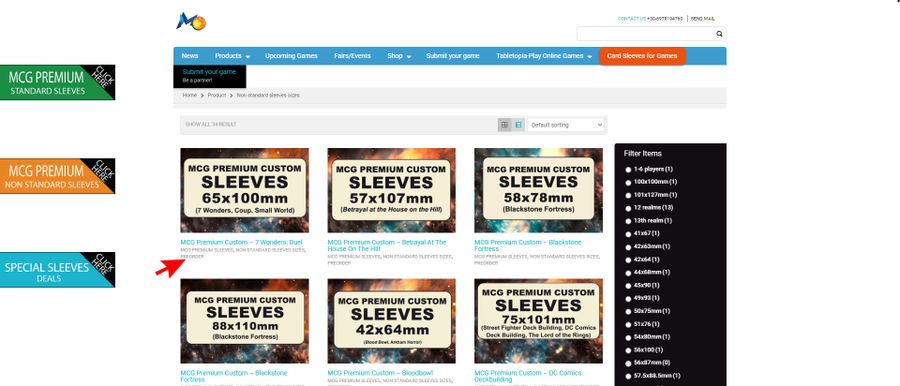 In case you miss the pre-order note, once you click on a new sleeve size you will see the notice ETA: November-December (check the image below). We have tested the sizes from all new sleeves and their quality and the production is under progress. ETA in the warehouse will be late November – December.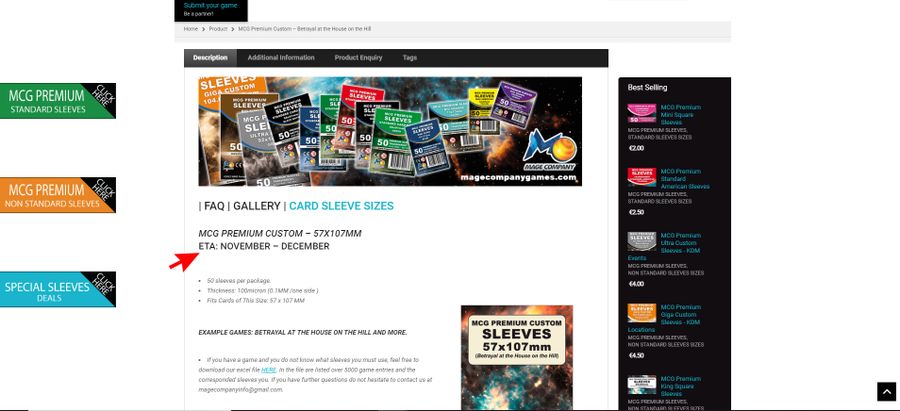 What are the new sizes that we will have soon in stock:
PREMIUM MATTE SLEEVES  – (MTC size)
PREMIUM SOFT SLEEVES
The premium soft sleeves are a new category to the MCG premium sleeves line. These sleeves are 60 micron, each pack includes 100 sleeves, the price is lower from the common sleeves and the quality is still high. The standard sleeves sizes will be also available in Soft type.
Standard Card Game Soft Sleeves
Standard American Soft Sleeves
TRANSPARENT NEW PREMIUM CUSTOM SLEEVES
65X100mm: 7 Wonder Duel, Coup, Resistance, Smallworld
57x107mm: Betrayal at the House on the Hill
58x78mm: Blackstone Fortress
88x110mm: Blackstone Fortress
42x64mm: Bloodbowl
75x101mm: DC deck building, Street Fighter deck building
58x89mm: Dominion, Near and Far, Machi Koro, Deus
61x103mm: Dungeon Petz
100x100mm: Etherfields
56x100mm: Friday, Famiglia
77x123mm: Fog of Love
61x112mm: Joan of Arc, Dark Tales
49x93mm: Key Flow, The Boss
60x92mm: Le Havre, Havana
75x105mm: Mega Civilization
87x112mm: Munchkin Dungeon
70x120mm: Mystic Vale, Onitama, Timestories, Blue Moon
54x80mm: Oceanos, Twilight Imperium, Settlers of Catan
61x110mm: Pictomania, Tash Kalar
63.5x92mm: Police Precinct
57.5×88.5mm: Robinson Crusoe, Wiz War, Space Hulk, Runewars, Runebound, Citadels.
50x75mm: Sails ofr Glory, Kremlin, Through the Ages
70x110mm: Scythe, Trickerion, Castelli, Dungeon Roll
41x67mm: Space Alert
62x89mm: Standard Japanese size
45x90mm: Takamatsu
101x127mm: Talisman, Descent hero sheets, Fury of Dracula 3rd edt.
64x90mm: Thunderstone
88x125mm: Tiny Epic Games, Lobotomy, Big Book of Madness
51x76mm: Kingmaker, Wiz War
80x80mm: 5 Tribes, 7th cCntinent, Hanabi, Sagrada
76x88mm: Zombicide character cards
75x110mm: Necromunda, Bloodbowl, Warcry, Kill Team
127x153mm: Middara
You can pre-order the sleeves you want and few days before we stock we will send you email to proceed the order. You can send us email at magecompanyinfo@gmail.com with the sleeves you possible want or for any other requests.