12 Realms Ancestors Legacy
Exciting adventure begins as 12 Realms return with an expansion entitled Ancestors Legacy!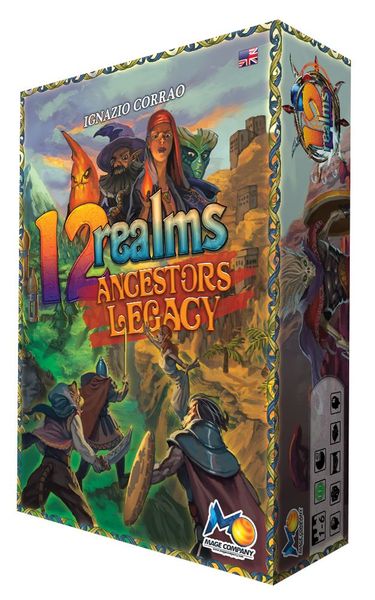 Four exciting new Realms lie hidden in the Fairy world and you must prepare yourself to explore them so as to defeat all of their enemies. Kievan Empire, Golden Caliphate, Olympia, and Nile Valley are the new lands you will get to explore to learn their secrets. Ruslan, Prince Ivan, Sinbad, Andromeda, along with the rest of the heroes, will unite to fight against Marid, Sobek, Anubis and the rest of the Dark Lords. Do not underestimate their power this time!
Ancestors Legacy will provide a much different game through its Plots. There are now seven different Plots for both the first edition and the new one, which will include a background story and will significantly increase the difficulty and excitement of the game – increasing the amount of decisions that players will have to make. Now, more than ever, team camaraderie will be necessary in order to reach victory! For each of the new Plots, you will discover different and customizable game set-ups.
The biggest challenge of this edition will be comprised of two specific plots which will take the game to an entirely different level. Plots are something completely new for 12 Realms. A Plot may have you playing with six Realms (combining old and new lands), facing all of the Dark Lords, or creating a really fast game with a unique set-up. No matter what your choice will be, Ancestors Legacy will take you to another world where your actions will determine the future of the Fairy lands and all the known Heroes.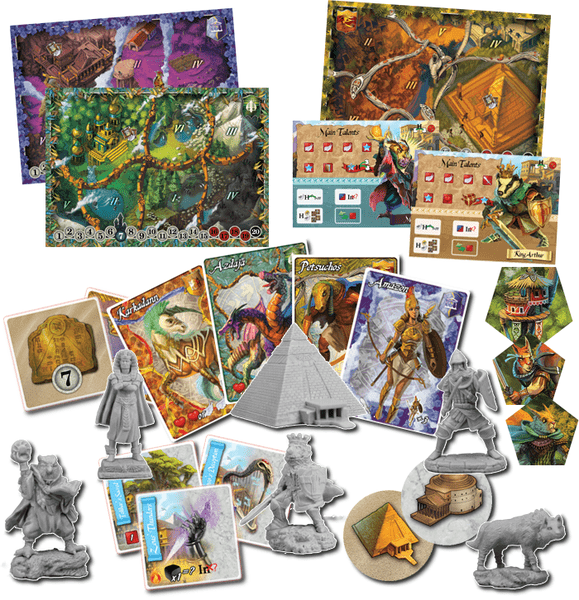 Components
4 Realms Maps: (Kievan Empire, Nile Valley, Olympia, Golden Caliphate), 200+ Invader, Treasure & Artifact Tokens, 30 Squirrel Tokens, 5 Squirrel Nest Tokens, 8 Magic Carpet Tokens, 12 Plot Tokens, 6 Witch Tiles
9 Double sided Hero Cardboards, 2 Double sided Bonus Hero Cardboards, 19 Kievan Empire Cards, 19 Olympia Cards, 19 Golden Caliphate Cards, 19 Nile Valley Cards, 12 Event Cards, 10 Tablet Cards, 30 Pyramid Cards, 12 Pantheon Cards, 6 Ninja Cards
4 Invasion Wooden Markers, 9 Hero Miniatures (Andromeda, Egyptian Prince, Perseus, Egyptian Princess, Prince Ivan, Sinbad, Scheherazade, Snow Wolf), 2 Bonus Hero Miniatures (Merlin, King Arthur), 4 Fortresses (1 Per Realm), 1 Pantheon Building, 1 Pyramid Building, 1 Plot and Story Guide (English Edition)
Before you place your order please read the following instructions:  
Orders are shipped from Greece and from UK depending the destination. Any parcel over 2kg gets tracking number from the post office. Any parcel below 2kg does not get tracking number based on the post office's system. 
Due to technical reasons and updates on our website, our automated payment system via paypal is currently unavailable. For any inquiry please contact us at magecompanyinfo@gmail.com
60 – 120 min
1 – 6 players
Ages 11+
12 Realms Ancestors Legacy (Expansion)