Bedtime Story (expansion)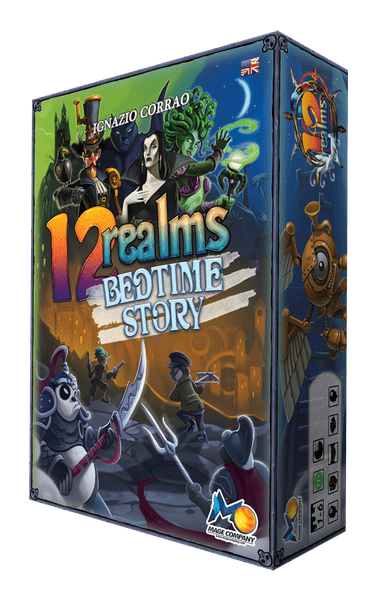 From our earliest years onward, fairytales have an enormous impact on our lives. They entertain us with the daring deeds of colorful heroes and villains. They inspire us to go on adventures of our own and see the world in whole new ways. And they remind us that no matter how dark life gets, there's always hope, always a reason to fight for our dreams. Inspired by the fairytale lore we've come to love. 12 Realms is a constantly expanding game that offers players the chance to act as fairytale heroes—everyone from Sinbad to King Arthur to Red Riding Hood, Nutcracker, Snow White, Hansel & Gretel, Pinocchio, Robin Hood and beyond—facing down villains and interacting with other lively characters and companions. There the players are tasked with leading their beloved heroes through a magical journey full of excitement and danger to save the Realms from the Dark Lords' overwhelming hordes. Every hero is represented by a lovingly crafted miniature, already included in the box.
Bedtime Stor
y continues to build on that legacy and brings four new realms: Tang Dynasty, Horrorville, Clockwork Shire and Atlantis. This time Heroes must destroy once and for all the Dark Forces! In Tang Dynasty a god has been born with unlimited power. Player begin their journey from the same realm and they must travel from one land to another but to do that they must destroy the Walls which separate each land. Each Wall has three parts and they can be destroyed by accomplishing
different tasks: Find all Artifacts, destroy a Dark Lord or destroy the Black Fortress. When a part of the Wall is removed, the player who did wins some extra and new Talents: the Green ones. These Talents determine the vulnerability of the player at the end of the game. In each round archers on top of the wall attack and all players lose talents, making the game progressively more difficult! Things will become more challenging… As long as player try to destroy the Wall in a Realm, Invaders take over the rest Active Realms! When you get at the Palace, you must all face the god who born there and then one of you can take that power!
On the other other side of the fairy world, Atlantis is sinking and the flood affects all the rest active Realms. Each time you destroy Invaders the water level rise in more than one Realms and you need more Talents to travel there as for the Invaders, they become more powerful. Save as many people, sacrifice your character and buy some time trying to find the solution and save yourselves. The time is running but in Clockwork Shire there is no time. Pinocchio and Geppetto must work to find all the missing gear wheel and re-activate all the Areas and only then you can attack the Invaders who raid the Realm. Use speed, travel among all the realms and find the correct gear wheel but be careful! Steam Baron will be there and you must face his mechanical skills! Regroup your team, this war is not over yet. A madman is running loose in Horrorville, a doctor who transforms people into beasts. If he transforms them all, you lose, so you must work together and find the cure and then you must find this madman and cure him but he is way to strong!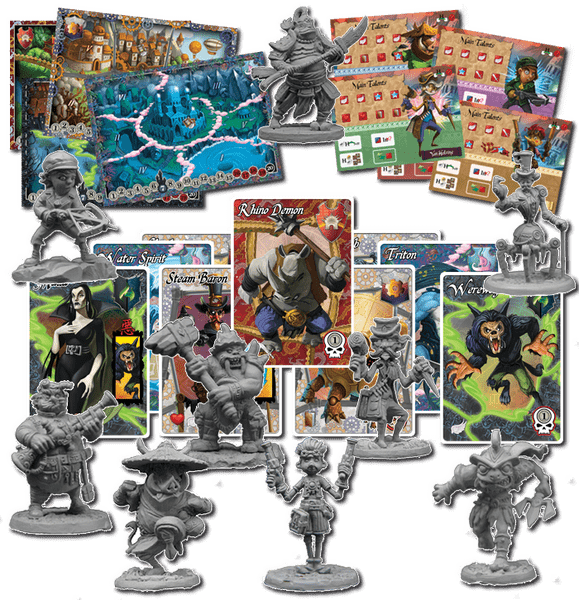 Before you place your order please read the following instructions:
Orders are shipped from Greece and from UK depending the destination. Any parcel over 2kg gets tracking number from the post office. Any parcel below 2kg does not get tracking number based on the post office's system. 

Due to technical reasons and updates on our website, our automated payment system via paypal is currently unavailable. Make your order,  click on "my cart" button (up right on the screen), add your country, click the button "get quote" and the final amount including shipping will be appeared. Send payment to this paypal account: lordsollar@yahoo.de and include a paypal note with the name, shipping address and the selection of the sleeves. 
60 – 120 min
1 – 6 players
Ages 11+
€44.90Add to cart