RULES | FAQ | PLOTS | REVIEWS | GALLERY
Aether Captains: Fleet of Doom / Expansion – ETA Q2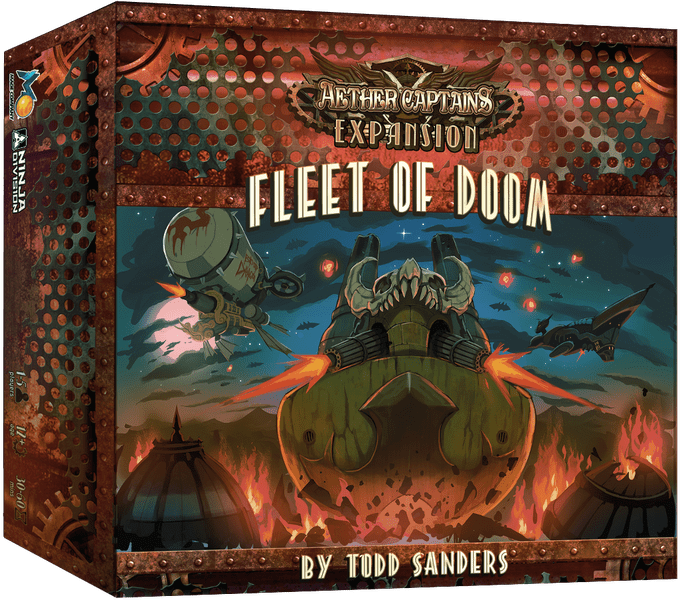 Fleet of Doom is the 2nd expansion of Aether Captains and is not a standalone game. This expansion includes new components for the War-Captains. It adds the triple dice-ships for the War-Captains along with new rules and strategies.  The triple dice-ships are quite similar to the Navy Commander's ones but are also equipped with new abilties and Action cards. The War-Captains fleet will be en-powered however there is a flow. These ships are part of more than one dice therefore a War-Captain can choose just one of those ships.
At the same time you will discover the new powers of the Action cards as well as the new Crew Members. Additionally new Objectives will turn the game into a challenge for those who join the enemy's forces. The new Objectives offer different missions and targets for the War-Captains.
Components: 3 War-Captain Boards. 36 Action Cards, 4 Stats Boards, 6 Brass Dagger dice-ships, 6 Reaver dice-ships, 6 Hammer Mace dice-ships 5 War-Captain Objectives, 1 Rulebook.
Before you place your order please read the following instructions: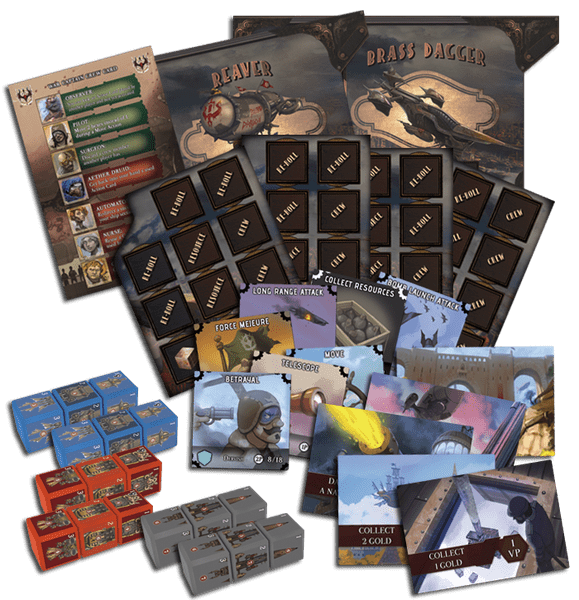 Orders are shipped from Greece and from UK depending the destination. Any parcel over 2kg gets tracking number from the post office. Any parcel below 2kg does not get tracking number based on the post office's system. 
Due to technical reasons and updates on our website, our automated payment system via paypal is currently unavailable. Make your order,  click on "my cart" button (up right on the screen), add your country, click the button "get quote" and the final amount including shipping will be appeared. Send payment to this paypal account: lordsollar@yahoo.de and include a paypal note with the name, shipping address and the selection of the sleeves. 
45 – 90 min
1 – 6 players
Ages 13+
Aether Captains: Fleet of Doom (Expansion)
Additional Information
| | |
| --- | --- |
| Weight | 1.200 kg |
| Dimensions | 30 × 30 × 9 cm |
| Barcode | 0601629914565 |
| MCG | MCG 051 |
| Sleeves | 1 x MCG Premium Sleeves 44x63mm, 1 x MCG Premium Sleeves 53x53mm, 1 x MCG Premium Sleeves 82x122mm |