Aether Captains – ETA Q2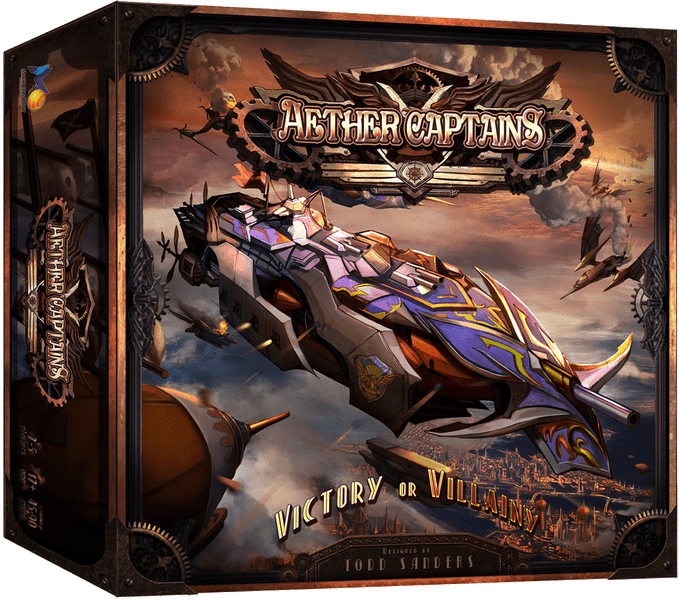 Aether Captains is a steampunk themed, scenario-based, asymmetric board game for 1-6 players.
One player commands the mighty naval zeppelins of the Grand Compact: Dauntless and Dominion. As Commander, you have been tasked by the Emperor to defend the Grand Compact and Arkady from the merciless sky pirates. With your staunch crew of steam welders, engineers, navigators and gunners, you fly with honor to confront the pirates threatening Arkady. The remaining players command waves of attacking sky pirates, each with their own unique objectives which may pit them against any player when it results in the greatest profit for themselves. Infamous and feared, you have risen through the cutthroat cadres to become a War Captain.  You swear to never rest until you control the skies and the Grand Compact falls!
Components: 2 Arkady Boards. 6 War-Captain Player Boards, 8 Stats Boards, 50 Objective cards, 6 Crew Member cards, 94 Action cards, 6 HMS Dauntless Zeppelin Dice, 6 HMS Dominion Zeppelin Dice, 2 Pirate Zeppelin Dice, 2 Double Zeppelin Dice, 2 Steamraven Dice, 2 Skystinger Dice, 2 Zomby Strike Dice, 2 Iron Hammer Dice, 1 D6 Black die, 14 Crew tokens, 16 City Defence tokens, 15 Re-roll tokens, 5 Fortification tokens, 10 Firearm tokens, 15 Fuel tokens, 10 Gold tokens, 10 Repair Gear tokens, 10 Water Unit tokens, 1 Storm Token, 26 Arkady Hex Tiles, 1 Neutral Ground Tile, 2 Navy Commander Miniature Ships, 12 War-Captain Miniature Ships, 5 D12-sided Dice, 1 Cloth Bag, 1 rulebook
Before you place your order please read the following instructions: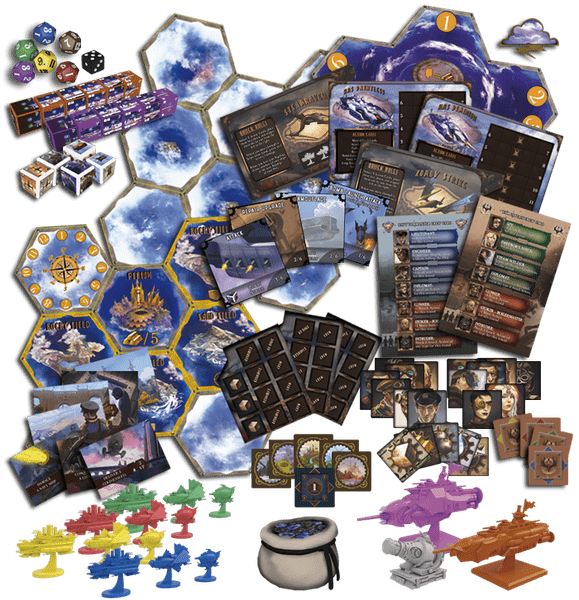 Due to technical reasons and updates on our website, our automated payment system via paypal is not working. Select the items you want, send us your address and order at this email address: magecompanyinfo@gmai.com and we will provide the info for completing the order. Min. order value is $10.
Parcels are dispatched from Germany to all destinations in a period of 3-5 days depending the volume of orders.
For EU countries it takes around 5 business days for delivery. Exceptions are Nordic countries, UK, Spain, where it takes around 7 business days.
For US, Canada and Russia it takes around 10 business days for delivery.
For Latin America, Brazil, Asia, Australia, New Zealand, Singapore, Israel it takes around 12 business days for delivery.
Parcels over 2kg get tracking number. The tracking number is sent to the customer via email.
30 – 60 min
1 – 6 players
Ages 13+
Aether Captains (Core Game)
No longer available for pre-ordering - Join the waitlist to be emailed when this product becomes available
Additional Information
| | |
| --- | --- |
| Weight | 2 kg |
| Dimensions | 30 × 30 × 9 cm |
| Barcode | 0601629914541 |
| MCG | MCG 049 |
| Sleeves | 1 x MCG Premium Sleeves 44x63mm, 1 x MCG Premium Sleeves 82x122mm, 2 x MCG Premium Sleeves 53x53mm |