RULES | REVIEWS | GALLERY | TOURNAMENTS
Carrotia: Carroting / ETA Q2
In Carroting, Master Rabbit will have to face the currents of the big maze river and find the exit on time while he will have to deal with the fishes in it. The tiles forming the maze river point a specific direction towards the river. When Master Rabbit moves along with the river's currents there is no cost at moves but if he wants to move opposite to the river's currents, then the cost is double. As more moves the Master Rabbit makes, as sooner the defeat will come!
Different fish types are living in the river waiting to block Master Rabbit with their special abilities. Time is running out and Master Rabbit will have to figure out a way to make his way through the river maze. Some friends will follow in this aquatic adventure and will help Master Rabbit! The Wizard, Lovely Rabbit and the Steam Rabbit.
Before you place your order please read the following instructions: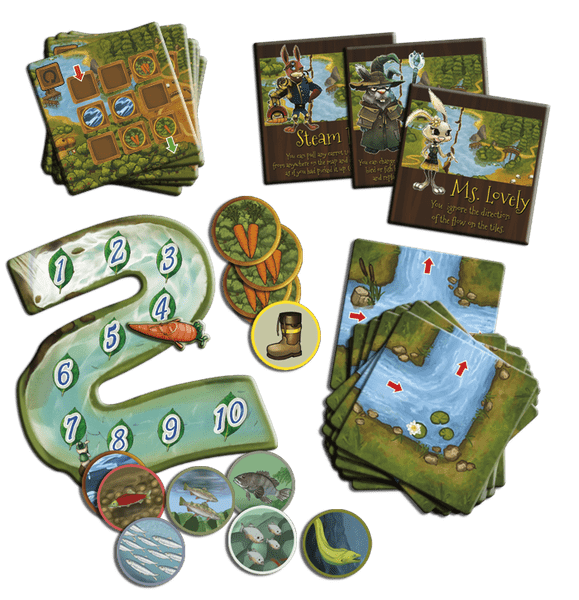 Due to technical reasons and updates on our website, our automated payment system via paypal is not working. Until we complete all new changes, any order can be completed via bank transfer. When you select the items you want, press checkout and a message will appear with the info to send payment.  You can send your address and order at this email address: magecompanyinfo@gmai.com. Min. order value is $10.
Parcels are dispatched from Germany to all destinations in a period of 3-5 days depending the volume of orders.
For EU countries it takes around 5 business days for delivery. Exceptions are Nordic countries, UK, Spain, where it takes around 7 business days.
For US, Canada and Russia it takes around 10 business days for delivery.
For Latin America, Brazil, Asia, Australia, New Zealand, Singapore, Israel it takes around 12 business days for delivery.
Parcels over 2kg get tracking number. The tracking number is sent to the customer via email.
30 min
1 – 6 players
Ages 8+
Carrotia: Carroting (expansion)
Available on backorder - Join the waitlist to be emailed when this product becomes available
Additional Information
| | |
| --- | --- |
| Weight | 0.400 kg |
| Dimensions | 20 × 10 × 6 cm |
| Barcode | 0601629914756 |
| MCG | MCG 071 |