RULES | REVIEWS | GALLERY | TOURNAMENTS
Carrotia: Carrots Out / ETA Q2
In Carrots Out, the Master Rabbit must escape the complex and deep mine and in order to achieve that, he must protect his torch at all costs. If the torch lights out, the Master Rabbit will face a terrible threat as the enemy lurking in the dark.
The ghost miners are ready to stop Master Rabbit using their supernatural powers. These powers are taking effect depending on how strong light the torch has. Master Rabbit will make this journey along with his friends, Rabbit Mole, The Digger and the Leader. A game of darkness is about to begin….
Before you place your order please read the following instructions: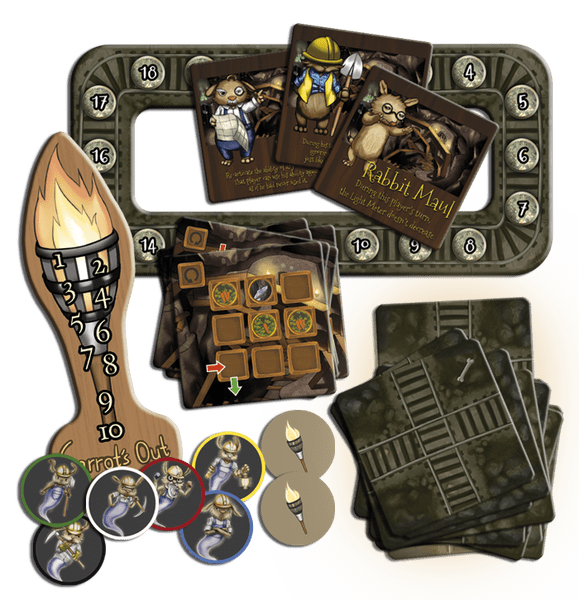 Due to technical reasons and updates on our website, our automated payment system via paypal is not working. Until we complete all new changes, any order can be completed via bank transfer. When you select the items you want, press checkout and a message will appear with the info to send payment.  You can send your address and order at this email address: magecompanyinfo@gmai.com. Min. order value is $10.
Parcels are dispatched from Germany to all destinations in a period of 3-5 days depending the volume of orders.
For EU countries it takes around 5 business days for delivery. Exceptions are Nordic countries, UK, Spain, where it takes around 7 business days.
For US, Canada and Russia it takes around 10 business days for delivery.
For Latin America, Brazil, Asia, Australia, New Zealand, Singapore, Israel it takes around 12 business days for delivery.
Parcels over 2kg get tracking number. The tracking number is sent to the customer via email.
30 min
1 – 6 players
Ages 8+
Carrotia: Carrots Out (Expansion)
Available on backorder - Join the waitlist to be emailed when this product becomes available
Additional Information
| | |
| --- | --- |
| Weight | 0.400 kg |
| Dimensions | 20 × 10 × 6 cm |
| Barcode | 0601629914749 |
| MCG | MCG 070 |