RULES | REVIEWS | GALLERY | TOURNAMENTS
Carrotia: Noscarrotu / ETA Q2
A dark journey is awaiting Master Rabbit in the land of Noscarrotu. This time, Master Rabbit will have to encounter Vampire Rabbits. Walking through a dark maze, Master Rabbit must create a path leading outside the maze in any of the four corners of it. He must collect at least 10 carrots and escape before Noscarrotu awakens!
This task though, will not be easy to achieve. Vampire Rabbits and Noscarrotu have special abilities capable to stop Master Rabbit. Noscarrotu has created a magic meter, the Noscarrotu meter. As long the numbers are decreasing, special effects take place in the game, effects that work in favor of the dark master and his puppets. Master Rabbit will have the chance to succeed having the support of three great heroes, the Psychic, the Priest and the Hunter.
Who will prevail through this dark encounter?
Before you place your order please read the following instructions: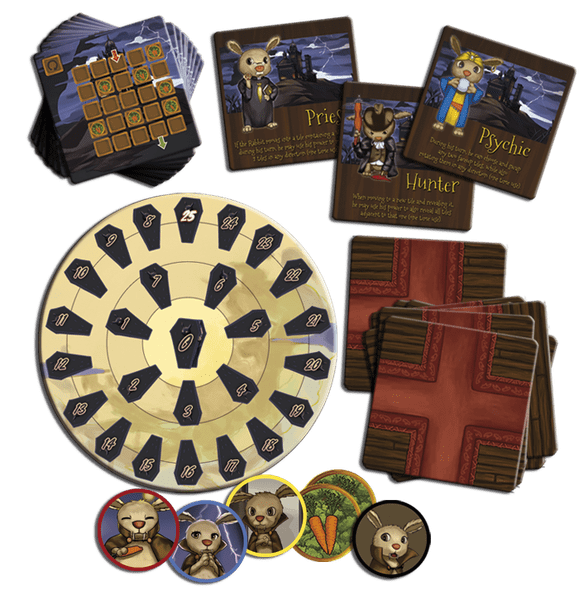 Due to technical reasons and updates on our website, our automated payment system via paypal is not working. Until we complete all new changes, any order can be completed via bank transfer. When you select the items you want, press checkout and a message will appear with the info to send payment.  You can send your address and order at this email address: magecompanyinfo@gmai.com. Min. order value is $10.
Parcels are dispatched from Germany to all destinations in a period of 3-5 days depending the volume of orders.
For EU countries it takes around 5 business days for delivery. Exceptions are Nordic countries, UK, Spain, where it takes around 7 business days.
For US, Canada and Russia it takes around 10 business days for delivery.
For Latin America, Brazil, Asia, Australia, New Zealand, Singapore, Israel it takes around 12 business days for delivery.
Parcels over 2kg get tracking number. The tracking number is sent to the customer via email.
30 min
1 – 6 players
Ages 8+
Carrotia: Noscarrotu (Expansion)
Available on backorder - Join the waitlist to be emailed when this product becomes available
Additional Information
| | |
| --- | --- |
| Weight | 0.400 kg |
| Dimensions | 20 × 10 × 6 cm |
| Barcode | 0601629914770 |
| MCG | MCG 073 |