Carrotia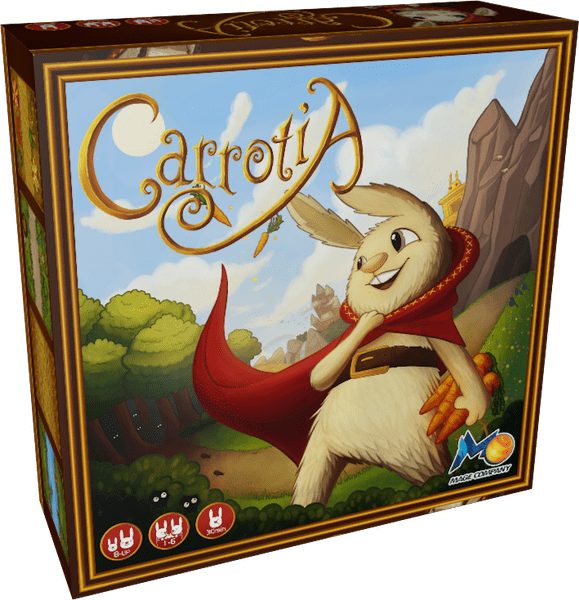 Carrot supplies are getting low and the rabbits must brave the wilds to collect enough to feed the colony! Time is short, the pathways long and the birds are circling overhead, looking for easy prey.
Carrotia is a light co-operative, tile placement game for 1-6 players where the team collectively works together against a timer to build three different mazes of increasing size. The master rabbit needs to dash from entrance to the exit within a specific number of moves according to the current mission card, scooping up the precious carrots while avoiding the owl, hawk and other birds as they swoop low over the zones causing mayhem and mischief.
Although the task may seem daunting, the master rabbit has some supporters, other rabbits that bring a unique special ability to assist the team and and thwart the hungry predators!
COMPONENTS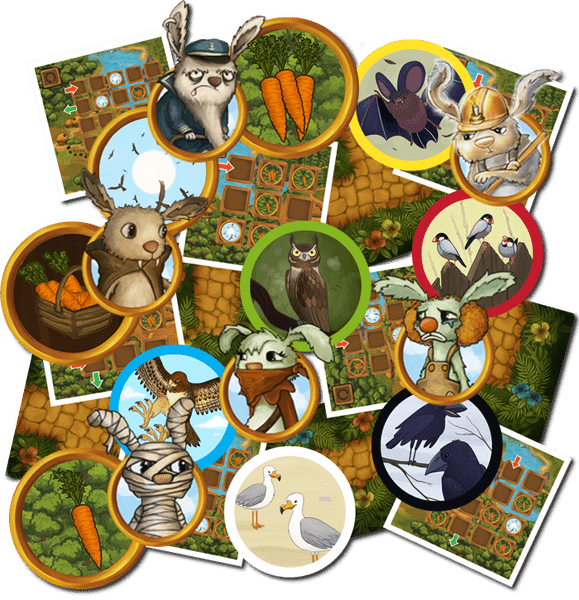 40 tiles (70x70mm), 3 hourglasses (30, 60, 90)
27 quest cards (70x70mm), 6 character cards (70x70mm)
6 bird tokens, 30 carrot tokens, 2 arrow tokens
1 wooden rabbit, 6 custom dice, 1 Ruleset
Before you place your order please read the following instructions:
Due to technical reasons and updates on our website, our automated payment system via paypal is not working. Select the items you want, send us your address and order at this email address: magecompanyinfo@gmai.com and we will provide the info for completing the order. Min. order value is $10.
Parcels are dispatched from Germany to all destinations in a period of 3-5 days depending the volume of orders.
For EU countries it takes around 5 business days for delivery. Exceptions are Nordic countries, UK, Spain, where it takes around 7 business days.
For US, Canada and Russia it takes around 10 business days for delivery.
For Latin America, Brazil, Asia, Australia, New Zealand, Singapore, Israel it takes around 12 business days for delivery.
Parcels over 2kg get tracking number. The tracking number is sent to the customer via email.
20 – 30 min
1 – 6 players
Ages 8+
Carrotia
€19.90Add to cart