RULES | FAQ | PLOTS | REVIEWS | GALLERY
Aether Captains: Clash of Corsairs / Expansion – ETA Q4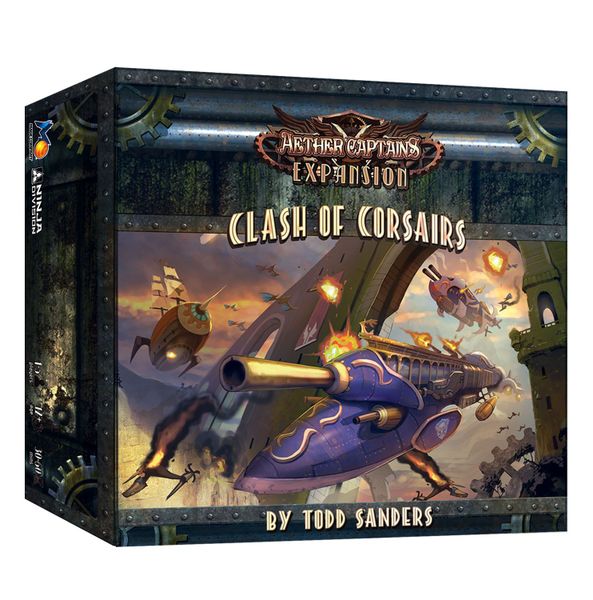 Clash of Corsairs is an expansion for Aether Captains and not a standalone game. This expansion includes new components for the Navy Commander and the Empire as well. Clash of Corsairs adds 2 new ships for the Navy Commander as well as new Action Cards but also different and new Objectives for the protector of Arkady that increase the replayability of the game.
The main focus in this expansion is to give to the Commander alternative missions, alternative game endings as well a variety of new ships and Action cards that introduce to the base game new effects and abilities. At the same time the Land of Arkady is expanded since the new hex tiles grow the whole Empire adding new locations and revealing new powers! Lastly you will be able to discover new Crew Member with unique abilities that will help you during the game!
Components: 2 Navy Arkady Boards, 2 D12 Dice, 1 Dervish miniature ship, 1 Peakhope miniature ship, 5 Dervish dice, 6 Peakhope dice, 34 Action cards, 2 Crew cards, 7 Crew Member tokens, 10 Arkady hext tiles, 2 New City Hexes, 2 Fortification tokens, 1 Rulebook.
Before you place your order please read the following instructions: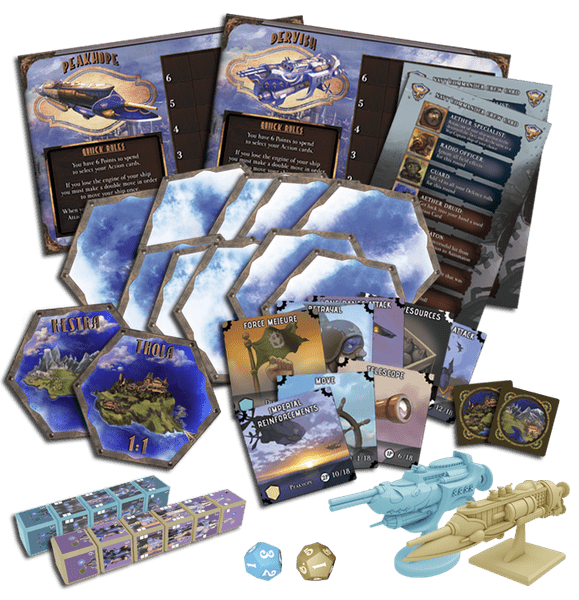 Due to technical reasons and updates on our website, our automated payment system via paypal is not working. Select the items you want, send us your address and order at this email address: magecompanyinfo@gmai.com and we will provide the info for completing the order. Min. order value is $10.
Parcels are dispatched from Germany to all destinations in a period of 3-5 days depending the volume of orders.
For EU countries it takes around 5 business days for delivery. Exceptions are Nordic countries, UK, Spain, where it takes around 7 business days.
For US, Canada and Russia it takes around 10 business days for delivery.
For Latin America, Brazil, Asia, Australia, New Zealand, Singapore, Israel it takes around 12 business days for delivery.
Parcels over 2kg get tracking number. The tracking number is sent to the customer via email.
45 – 90 min
1 – 6 players
Ages 13+
Aether Captains: Clash of Corsairs (Expansion)
Available on backorder - Join the waitlist to be emailed when this product becomes available
Additional Information
| | |
| --- | --- |
| Weight | 1.200 kg |
| Dimensions | 30 x 30 x 9 cm |
| Barcode | 0601629914558 |
| MCG | MCG 050 |
| Sleeves | 1 x MCG Premium Sleeves 53x53mm, 1 x MCG Premium Sleeves 82x122mm |