Hoyuk: Anatolia (expansion)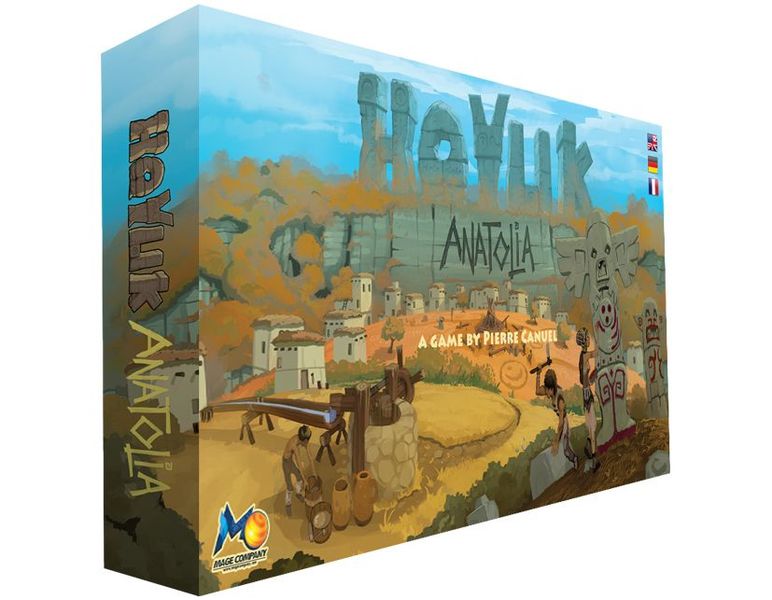 The world is moving into a new era, and now more than ever the clans work for the progress and the evolution of their community. Everyone tries to find new ways to improve their lives, new means to grow their lands and new constructions that create an easier life. In Hoyuk: Anatolia, you must prove your quality through three different Achievements: build a Water Supply System for your
village so the water can reach your land, throw the best Fest in the valley, and finally, build two Artifacts!
Each player chooses to complete two different Achievements at the beginning of the game.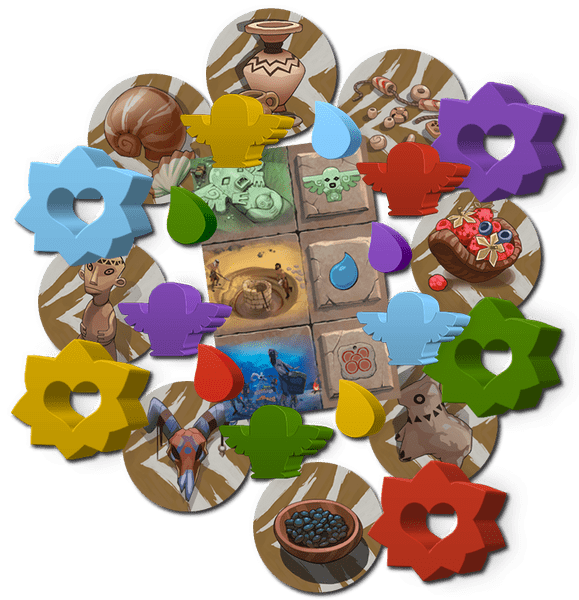 Each player who has managed to keep their Achievements intact until the end of the game will score additional Victory Points but most importantly each Achievement will score a different amount of points. The players use Drop counters in order to build the Water Supply System. Five Drop counters must be placed on five Houses of the same color and of the same Block. Furthermore these Houses must be connected to each other and at least one of them must be placed on the river or the lake of the game board. To place a Drop counter on a House, players must wait until the Construction phase and then choose not to build one of three Elements of their Construction board.
The Artifacts can be built easily but can be destroyed as easy as well because they are affected by all Catastrophes. Players can build an Artifact on the top of their Houses at the same way as the Drop Counters but in this case this House must be two stories high. If players do not complete this Achievement by the end of the game, they can still score Victory points. This is the only Achievement that has an advantage but it also gives less Victory Points.
This is an era where tribes search for a way to upgrade their social status, so they throw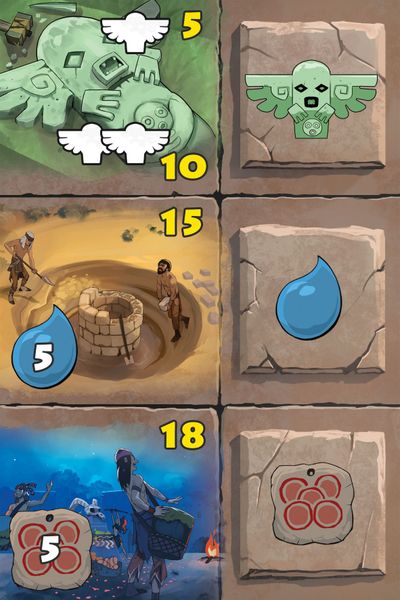 several Fests where they meet each other and celebrate. This is the last Achievement where players create the best Fest in the Valley by offering five different materials. These materials can be found on the Fest tokens but also on the Aspect cards. The Aspect cards have different images that must be matched with the Fest tokens. Once players have five Aspect cards that match with five Fest tokens, they discard them to score Victory points at the end of the game.
Before you place your order please read the following instructions:   
Due to technical reasons and updates on our website, our automated payment system via paypal is not working. Select the items you want, send us your address and order at this email address: magecompanyinfo@gmai.com and we will provide the info for completing the order. Min. order value is $10.
Parcels are dispatched from Germany to all destinations in a period of 3-5 days depending the volume of orders.
For EU countries it takes around 5 business days for delivery. Exceptions are Nordic countries, UK, Spain, where it takes around 7 business days.
For US, Canada and Russia it takes around 10 business days for delivery.
For Latin America, Brazil, Asia, Australia, New Zealand, Singapore, Israel it takes around 12 business days for delivery.
Parcels over 2kg get tracking number. The tracking number is sent to the customer via email.
1 hour
2 – 5 players
Ages 10+
Hoyuk: Anatolia (expansion)