RULES | FAQ | PLOTS | REVIEWS | GALLERY |
Cora: The Specialist
Cora the Specialist is an expansion character. Originally from Hawaii, her knowledge of survival and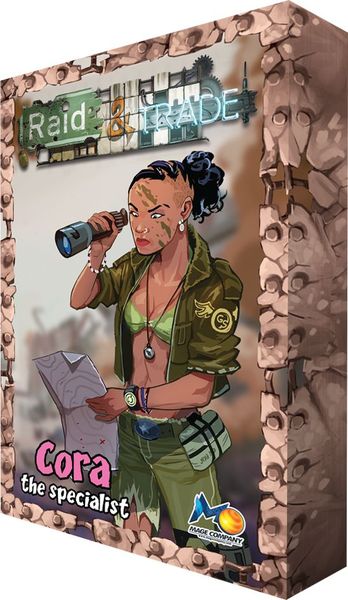 hunting were taught to her from a young age by her father. Once a demolitions expert in the military, she worked with mercenaries all across the country , until she found herself outside the Golden City…
Cora is the 6th character of Raid & Trade and in this expansion, you will discover a new ability. The ability of detonation! Cora traps the Houses during the game and the Survivors who will try to raid them, they will suffer the detonation effects. The rules of how to use Cora are included in the rules of the base game. She is one of the extra characters you will discover step step in this post-apocalyptic world. More expansion characters will follow in the future.
Special Note: For those who own a copy of War on the Streets here is a tip. Cora would be a useful character in some of the scenarios of this expansion. There are scenarios focused on co-operative play or increase the combat element. Each scenario requires some specific characters, so make sure to choose wisely.
Components: 1 board, 12 Item cards, 2 Detonation tokens, 1 Combat die, 1 Miniature
Before you place your order please read the following instructions:
Due to technical reasons and updates on our website, our automated payment system via paypal is not working. Select the items you want, send us your address and order at this email address: magecompanyinfo@gmai.com and we will provide the info for completing the order. Min. order value is $10.
Parcels are dispatched from Germany to all destinations in a period of 3-5 days depending the volume of orders.
For EU countries it takes around 5 business days for delivery. Exceptions are Nordic countries, UK, Spain, where it takes around 7 business days.
For US, Canada and Russia it takes around 10 business days for delivery.
For Latin America, Brazil, Asia, Australia, New Zealand, Singapore, Israel it takes around 12 business days for delivery.
Parcels over 2kg get tracking number. The tracking number is sent to the customer via email.
Additional Information
| | |
| --- | --- |
| Weight | 0.4 kg |
| MCG | MCG 026 |