The Cohort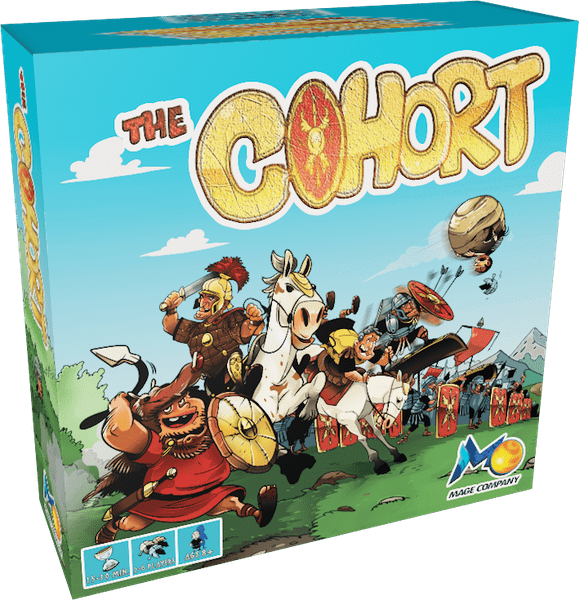 It is time to polish your armor and sharpen your sword, for mighty Caesar has called for his legions to assemble.
The Cohort is a fast-paced card game for 2-6 players in a race to be the first to assemble a Legion and show Caesar you are the greatest of his commanders.
Legions are composed of 3 different Cohorts, each made of one of seven different types of units: Praetorians, Catapults, Centurions, Sagittarii, Equites, Legionaries and Velites. During a turn, you draw two cards, keep one and give the other to a player of your choice. You can keep that card in your hand or trigger it and create a Cohort. Be careful though, for the troops are rowdy! Until a Cohort is complete their behavior works against you.
So snap them into line as quickly as you can, disrupt the plans of your fellow commanders and show Caesar that your Legion is the greatest in all the Empire.
COMPONENTS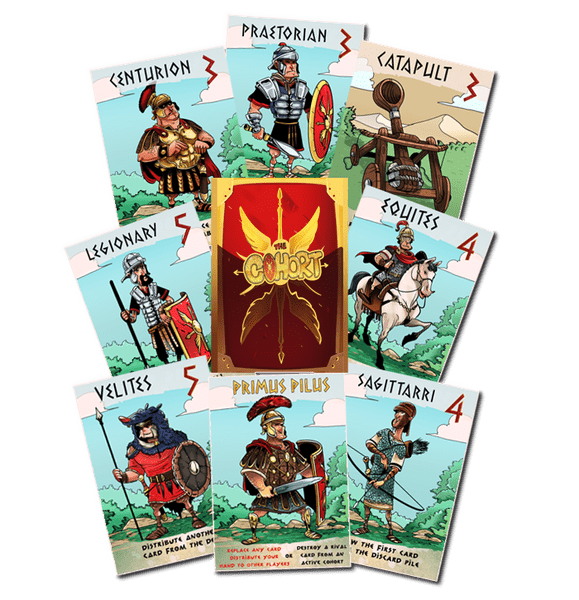 6 Primus Pilus cards, 18 Praetorian cards, 18 Centurio cards, 18 Catapult cards, 24 Sagittarii cards, 24 Equites cards, 30 Legionary cards, 30 Velites cards, 1 Rulebook
Before you place your order please read the following instructions:
Due to technical reasons and updates on our website, our automated payment system via paypal is not working. Select the items you want, send us your address and order at this email address: magecompanyinfo@gmai.com and we will provide the info for completing the order. Min. order value is $10.
Parcels are dispatched from Germany to all destinations in a period of 3-5 days depending the volume of orders.
For EU countries it takes around 5 business days for delivery. Exceptions are Nordic countries, UK, Spain, where it takes around 7 business days.
For US, Canada and Russia it takes around 10 business days for delivery.
For Latin America, Brazil, Asia, Australia, New Zealand, Singapore, Israel it takes around 12 business days for delivery.
Parcels over 2kg get tracking number. The tracking number is sent to the customer via email.
15-30 min
2 – 6 players
Ages 8+
€14.99Add to cart