Wrong Chemistry: Bonus Nobel Prize Scientists


Wrong Chemistry comes in full circle with a special last deck: Bonus Nobel Prize Scientists. This deck includes 52 scientists. Each card has its own illustration but some of the scientists have the same abilities in order to keep the balance in the game. These scientists add one more variant to Wrong Chemistry.
As it's known from the "Expand Your Lab", now you can use the scientists during all the game up to 3 times. Their different abilities add some strategy in the original game.
Using this game we have a new way to use the scientists. You shuffle the deck and if you want you can add the scientists from the expansion and then you deal 5 cards on the table faced up. When a player decides to use one of these scientists, then you draw another card form the deck. This way there are on the table always 5 scientists and their abilities change during the game.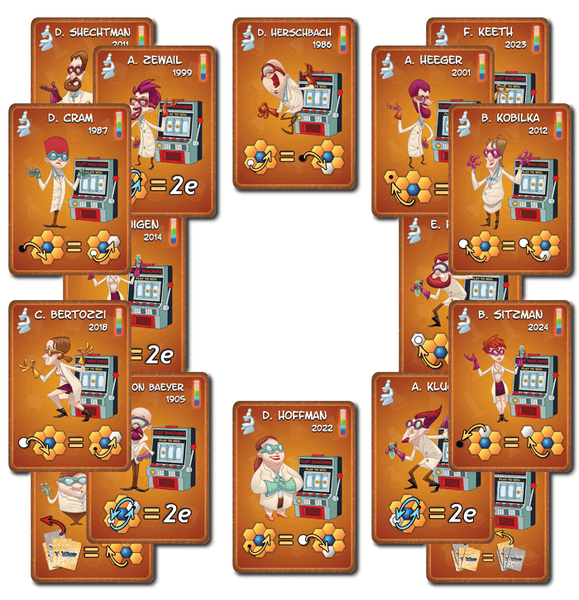 Before you place your order please read the following instructions:
Due to technical reasons and updates on our website, our automated payment system via paypal is currently unavailable. For any inquiry please contact us at magecompanyinfo@gmail.com
30 min
2 – 5 players
Ages 8+
Wrong Chemistry: Bonus Nobel Prize Scientists (Expansion)
Out of stock - Join the waitlist to be emailed when this product becomes available
Additional Information
| | |
| --- | --- |
| Weight | 0.200 kg |
| Dimensions | 6.6 × 2.3 × 9.1 cm |
| Barcode | 799475329050 |
| MCG | MCG 018 |
| Sleeves | 2 x MCG Premium Sleeves 66x91mm |