http://www.dadsgamingaddiction.com/wrong-chemistry/

https://www.youtube.com/watch?v=BGonJofnMA8
Wrong Chemistry
In Wrong Chemistry you change a molecule in order to create new elements out of it. A fun, easy to learn, but hard to master, game, with funny references to the real elements from the periodic table.
Players alternate rounds, during which they try to change the pieces on the board, in such a way that they can be the same shape represented by the cards in their hands. The cards represent new elements that the players discover, and when the board has the proper form, the player reveals from his hand the element he/she discovered and adds the card to his/her pile of earned points. The game ends when a player can no longer draw more cards.
Before you place your order please read the following instructions: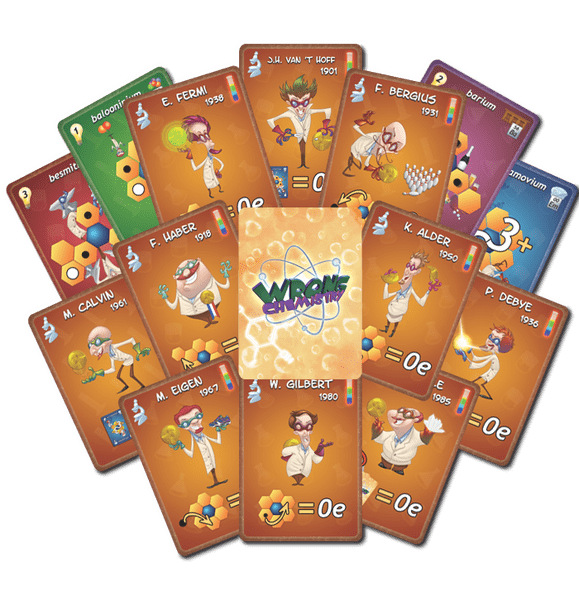 Orders are shipped from Greece and from UK depending the destination. Any parcel over 2kg gets tracking number from the post office. Any parcel below 2kg does not get tracking number based on the post office's system. 
Due to technical reasons and updates on our website, our automated payment system via paypal is currently unavailable. Make your order,  click on "my cart" button (up right on the screen), add your country, click the button "get quote" and the final amount including shipping will be appeared. Send payment to this paypal account: lordsollar@yahoo.de and include a paypal note with the name, shipping address and the selection of the sleeves. 
You can always check this product's BGG page here. Feel free to vote the images we post or create your own thread. You can even create your own variant rules and upload them on BoardGameGeek or send them to us and we will upload them there as well as on our website. We always post news on both sides as well as for different events. You can also rate the game and ask anything relative to the gameplay (rules, tactics, errata, feedback) etc. Just make sure you actually have a BGG account.
30 min
2 – 4 players
Ages 8+
Wrong Chemistry core
Additional Information
| | |
| --- | --- |
| Weight | 0.500 kg |
| Dimensions | 21 × 21 × 4.5 cm |
| Barcode | 0799422827943 |
| MCG | MCG 001 |
| Sleeves | 2-x-mcg-premium-sleeves-66x91mm |