RULES | FAQ | PLOTS | REVIEWS | GALLERY | TOURNAMENTS
Wrong Chemistry: Expand your Lab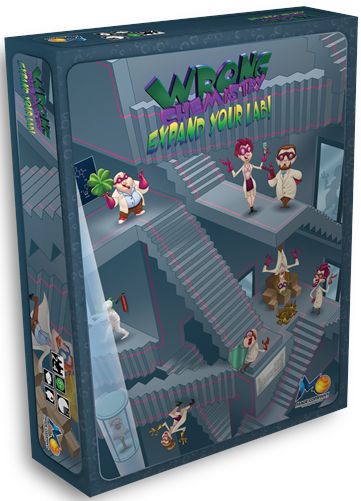 Wrong Chemistry: Expand your Lab expands Wrong Chemistry and leads to more… mistakes. In Wrong Chemistry, players want to collect as many points as they can by forming molecules based on the cards they draw. The expansion Wrong Chemistry: Expand Your Lab adds to the action of the base game, first by allowing for play with up to five players, and second by adding new element cards that expand upon the tactics of the base game by giving you new ways to earn points and by using both sides of the hex tiles.
In addition, new scientists have been added to the game; each player chooses one at the start of play and can use the power of this scientist up to three times during the game. Two new cards – "The Element of Surprise" and "Transmutium" – can be played in combination with the scientists to let you play during your rivals' turns.
Finally, five new cards – each worth 5 points – are placed face up on the table, waiting to be claimed by any player who can form these difficult combinations. As soon as the final card is claimed, the game ends – but the game can end in other ways as well as you'll discover during the game!
You can always check this product's BGG page here. Feel free to vote the images we post or create your own thread. You can even create your own cards and upload them on BoardGameGeek or send them to us and we will upload them there as well as on our website. We always post news on both sides as well as for different events. You can also rate the game and ask anything relative to the gameplay (rules, tactics, errata, feedback) etc. Just make sure you actually have a BGG account.
Components
66 Element Cards, 10 New Scientists Cards, 1 Element of Surprise Card, 1 Transmutium Card, 10 Nobel Tokens, 1 Multilingual Rulebook
Before you place your order please read the following instructions: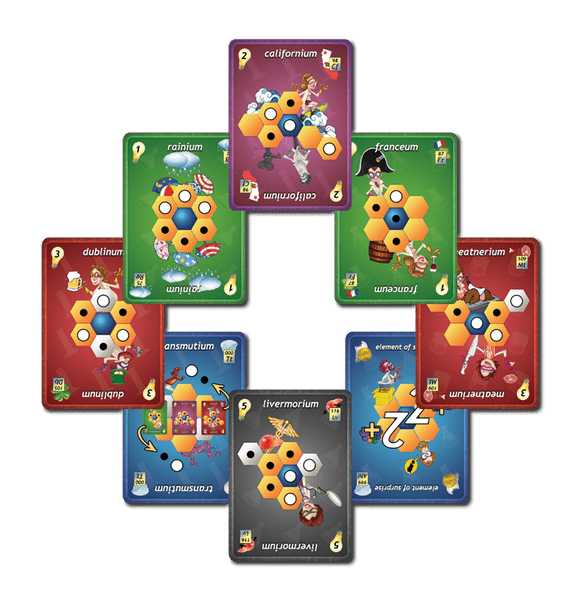 Due to technical reasons and updates on our website, our automated payment system via paypal is not working. Select the items you want, send us your address and order at this email address: magecompanyinfo@gmai.com and we will provide the info for completing the order. Min. order value is $10.
Parcels are dispatched from Germany to all destinations in a period of 3-5 days depending the volume of orders.
For EU countries it takes around 5 business days for delivery. Exceptions are Nordic countries, UK, Spain, where it takes around 7 business days.
For US, Canada and Russia it takes around 10 business days for delivery.
For Latin America, Brazil, Asia, Australia, New Zealand, Singapore, Israel it takes around 12 business days for delivery.
Parcels over 2kg get tracking number. The tracking number is sent to the customer via email.
30 min
2 – 5 players
Ages 8+
Wrong Chemistry: Expand your Lab (Expansion)
Additional Information
| | |
| --- | --- |
| Weight | 0.400 kg |
| Dimensions | 20 × 20 × 4 cm |
| Barcode | 0799475329043 |
| Sleeves | 2-x-mcg-premium-sleeves-66x91mm |