Hi everyone,
it is time to post a full update for the Kickstarter sleeves project and the pending online orders:
1. What percentage of the Kickstarter sleeves project has been completed?
70% of this project is complete. Around 1100 pledges have been shipped out from Gamesquest and from our office.
2. How many pledges are still undelivered?
Around 600. That includes parcels that have to be shipped by GQ and some from our office. At this point we must say that we still reply in messages so we can make progress in the remaining pledges but also there are people who have not replied back or have not followed any of our updates and we wait their news so we can completed their pledges.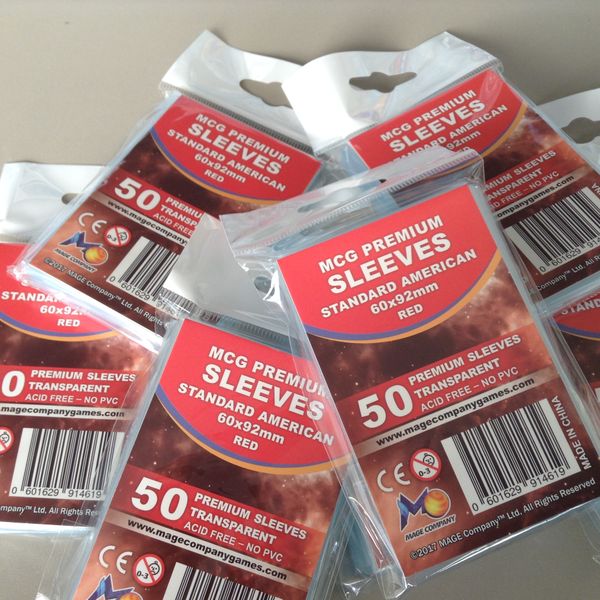 3. In one of the last updates you mentioned by name the backers where you will send their package from your office. I did not see my name in those lists. When will I receive my sleeves?
Please check the pm we sent you on kickstarter on May 21 and then another pm in June with a quote from GQ. These 2 pms include all the info you will need. If you have any questions please send us a pm here or contact us at magecompanyinfo@gmail.com
4. I did not receive any quote from MAGE or GQ. When will I receive it?
Please note that all quotes were sent until the 3rd week of June either by pm or via email. We received some messages from backers who had not received the quote and we connected them with GQ so they can receive their parcel. We possible find more since we still reply to emails. At this point we want to mention the following: When we receive a message here on our kickstarter account, a green dot appears next to backer's kickstarter name so we know which message has been read and the unread of course. Recently we detected 4 messages from backers who had sent us pm here but the green dot was not appearing so never opened them. Eventually we replied via our gmail accounts. In case we have delayed a lot to reply to your latest pm here on kickstarter, if you want resend it just in case. We do not want to miss any pm. You will help us a lot if you can do that.
5. MAGE. I paid the extra amount in GQ in order to receive my Kickstarter sleeves. Will I get refunded and if yes how and when?
The backers who paid extra GQ to receive their sleeves will be refunded. We know the amounts since GQ has an online system and keeps there info for each parcel and the shipping value, so we know what we will refund. We need first to complete all orders from this project. Next move is to check the total amount we have to refund. Since the delivery is still progressing we do not know yet the total amount. Once we will be ready we will send messages to the people where we must refund and we will do it via paypal.
6. My parcel it should be dispatched from your office but I have not received it yet. I do not want to wait further. Is it possible to pay GQ and have them shipped my parcel instead?
If your parcel is not delivered yet from our office and you want that option please send us a pm on kickstarter or at magecompanyinfo@gmail.com. Please avoid to send the same message on all accounts.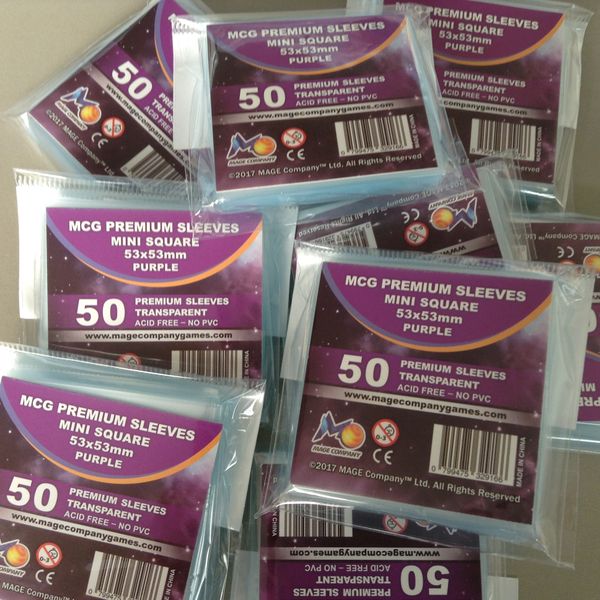 7. My name was included in the lists you posted in one of the latest updates but I have not yet received my parcel. I do not want to pay GQ. I want to get my sleeves as you stated. When I will receive them? 
As we previously mentioned, we ship from our office backers parcels and online orders since we must make progress on that side too. Each time we ship out a batch from our office we include a mix of packages (online and backers ones). Normally we go 3 times on monthly basis on our local post office. This month we delayed since we had to work to promote our games and sleeves to retailers and also make progress for licenses with publishers so we can generate funds. 1-2 days after each time we go to post office we send messages to the people  where their parcels were dispatched.
8. My order was shipped from GQ but when I received it there was a mistake in the sleeves. How can I receive the correct amount?
You can send message here fulfilment@gamesquest.co.uk and give your order's info. A ticked is automatically created and the people from GQ reply back on this. The last days we received some open tickets from GQ and we assisted them to fix these orders and send the correct amount of sleeves, or replacements and so on.
9. I have sent you pm on kickstart / at magecompanyinfo@gmail.com and I have yet to receive a reply. Do you ignore me?
No we do not ignore you. We have four gmail accounts, kickstarter and total 5 projects we must close. Please understand that is been quite crazy. All the years MAGE is working we were always replying fast. The last months we get too many messages and it takes time to resolve each case. No case is closed with a single reply. We do our best to catch you all. We fully understand that as long as we delay we cause frustration if not anger but we can ensure you we do not ignore you that's why we ask from each backer when we reply or when the sleeves are delivered to leave a comment online so you can all see that this is progressing.
10. You had mentioned that you will launch the 2nd kickstarter  for the sleeves and that you would use funds from that campaign for the refunds. What's the progress? Has anything changed?
We launched the second campaign (on indiegogo) but in wrong time. So, first we want to complete this project and the online orders. Regarding the online orders we have already completed about 55% of them and we continue. Aside these sleeves we also want to close 2 more of our old projects (board games). This way the biggest part of orders will be closed and we will able to use kickstarter again. But not before that. We already talked to kickstarter, they are aware of our projects and progress.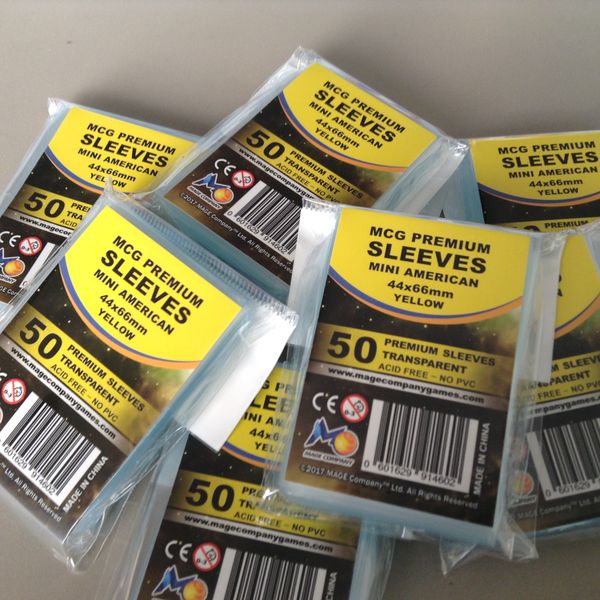 11. I already paid shipping fees via kickstarter. I do not want to pay GQ. That means I will not receive my sleeves?
No it does not mean you will not receive them. We thought this solution with GQ in order to close the project and not letting you wait further. If you do not want that option you can send us here pm. So far we have noted around 40 backers in this group. We still have some messages to reply here on Kickstarter. We will see if there are more and add them in the same group. We will organize a shipping wave or two depending the number of backers and we will ship them through our office. We will send messages to the backers before we ship out these parcels.
12. I checked the update where you had posted names of backers that their parcels will be dispatched from your office but I don't see any name now and I don't remember if I was included. Why is that?
We received a message from the kickstarter administration that this is not allowed. To be honest we never thought of that and we explained them that even if we wanted to edit the update, we simply cannot since kickstarter allows to creators to make corrections in an update up to 30 minutes after posting it. So, kickstarter edited and removed the names.
13. I have paid GQ but I have not received my sleeves or at least a notification. Is there anything wrong?
No there is nothing wrong. If there is such case please send us a message at magecompanyinfo@gmail.com so we can connect you with GQ and resolve it.
14. What percentage of the online pending orders have been completed?
55% of the online have been completed so far.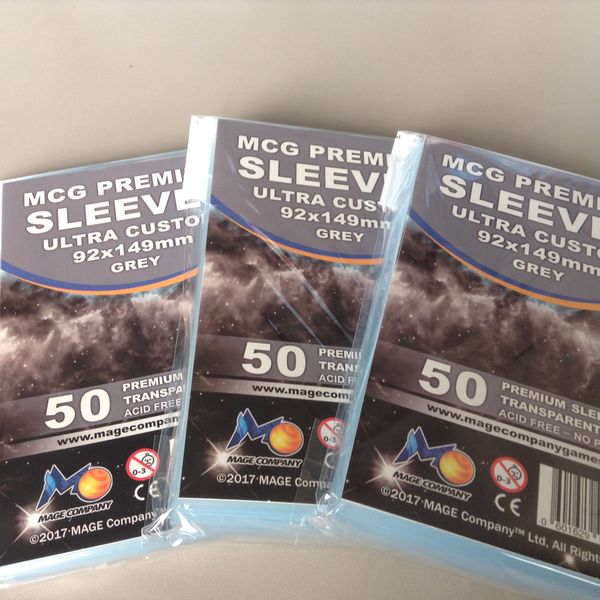 15. I placed an order through your online shop but I have not received any update for some time now. Will I receive my order?
All orders are in the system and after our site was hacked we had to reorganize our database and re-add many orders. We apologize for the delay to send you update for your order. We are working to keep everyone updates. Yes you order will be completed and delivered.
16. My order is marked as completed. Shouldn't have I received it by now?
When an order is masked as complete, it means we added to the warehouse's system, and print the label. Then we wait the parcel to be dispatched and once it does we send separated message to each customer.
We kindly ask you to give us time to get back to you as we are working on all sides at the same moment. We do understand that each customer wants to receive what was ordered.