FAQ |REVIEWS | GALLERY |
Ancestors Legacy: Dark Lords Pack
Ancestors Legacy: Dark Lords pack upgrades the tokens you will find in the Ancestors Legacy expansion into miniatures. All the eight Dark Lords gathered in the same box! In each Realm are corresponded two different Dark Lords. Each Dark Lord has its own card and ability. This ability is triggered once the Dark Lord appears in a Realm and since the right conditions are met.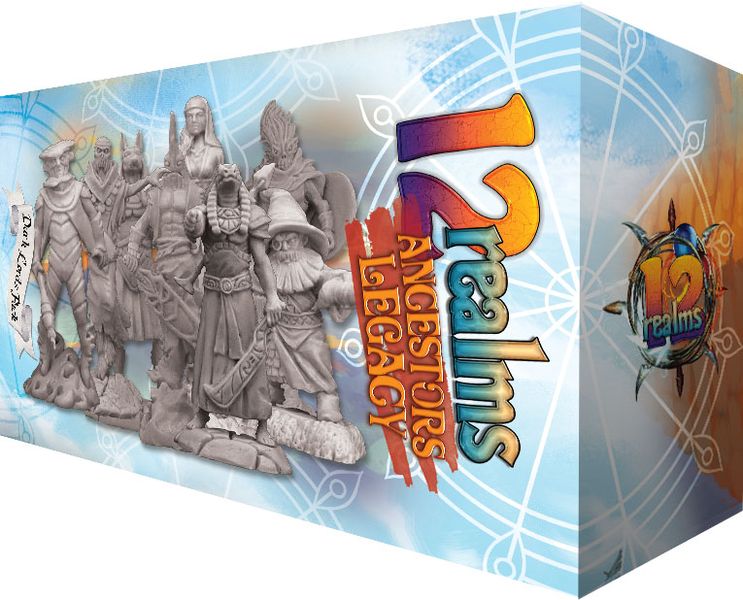 Following the base game rules, once you defeat the Dark Lord of a Realm, that Realm is closed and you can transfer your Hero to another one. Do not underestimate their powers! Some Dark Lords seem to be weak however their abilities once they are triggered change the entire game. Each of the big 12 Realms' expansions like; Ancestors Legacy and Bedtime Story have their own Dark Lords that are much stronger and with new abilities. In most cases you have to work with the other players in order to defeat them.
Scale: 35-40mm / Material: PVC / Status: Unpainted
Do note that the Miniatures come pre-assembled, unpainted and with custom bases.
Box Size: 19 x 12 x 6cm
Components: 1 Koschei, 1 Thanatos, 1 Ifrit, 1 Marid, 1 Anubis, 1 Sobek, 1 Circe, 1 Chernomor
Before you place your order please read the following instructions:
Orders are shipped from Greece and from UK depending the destination. Any parcel over 2kg gets tracking number from the post office. Any parcel below 2kg does not get tracking number based on the post office's system. 
Due to technical reasons and updates on our website, our automated payment system via paypal is currently unavailable. For any inquiry please contact us at magecompanyinfo@gmail.com
Out of stock - Join the waitlist to be emailed when this product becomes available
Additional Information
| | |
| --- | --- |
| Weight | 0.400 kg |
| Barcode | 0799475329104 |
| MCG | MCG 028 |